Anticipating the need of guitarists to protect their valuable instruments Scratch Pad LLC developed a unique product, the Scratch Pad ®. The Scratch Pad ® protects the instrument from scratches and other damage caused by belts, buttons, and the abrasive effect of denim.

Ease of Use

The Scratch Pad ® only takes a few seconds to apply, remove and place on a different instrument and is easy to cut for non-standard model guitars and basses. A small number of pads is therefore sufficient for a complete collection of instruments.

Patented Technology
The Patented Sof-ClingTM technology, a gel-like material with thousands of microscopic pores, keeps the ultra-thin pad firmly in place through suction. There is no use of glue, so no nasty residue left on the instrument.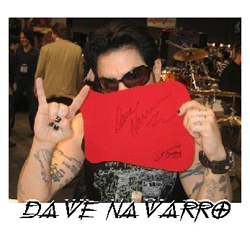 Designer Pads
Scratch Pad ® is not only used to protect the guitar but also to personalize it with one of the many cool designs such as the Skull, Rock Hand and the Peace Symbol. The pads are also available in a neutral black version.

Flashing
For the "working guitarist " there are the text pads, designed to flash at the audience with catchy lines like Hell Yeah!, Flash Me, Beer Me! and Thank You.
Famous guitar players such as Yngwie Malmsteen, Joe Satriani and Dave Navarro already discovered the hugely popular Scratch Pad ®.
Accessories
Scratch Pad USA Website
Sell Scratch Pad in your store? Feel free to contact us.